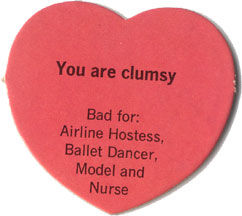 Ever had one of those days when everything you touch turns to...fecal matter? Well, today was mine. And of course, to add insult to injury, I was at work for all to see. I dropped pretty much anything I picked up - charts, meds, supplies - name it. Didn't drop any patients, although I came awfully close when this one old gal told me she walked all the time and was perfectly steady on her feet. It wasn't until I got her halfway to the bathroom and she started to slowly collapse in on herself that I realized that the one thing left out of the EMT's report was dementia. There's a hell of a difference between thinking you can walk and actually walking.


My IV percentage today was appalling. Normally I hit at least 90% of the IVs I start - today I was at something like 20%. The fact that other people tried (to help me out) and also had trouble didn't make me feel any better. All day long nothing I did worked the way it was supposed to. Don't even ask about the catheters.


But then, toward the end of the shift, I had a patient who was getting a cardiac med IV that is so potent it can only be given in the ER or the ICU. And all of a sudden I became convinced that I had given her the wrong med. I kept wracking my brain for the generic name and couldn't remember it, so when I looked at the bag that came up from Pharmacy (labeled with the generic name) I thought I had hung the wrong thing. If your entire body can simultaneously have cold chills, break out in a sweat, hyperventilate and suffer massive circulatory collapse - mine did. My future as a Wal-Mart greeter flashed before my eyes.



I've never (knocking wood compulsively) given the wrong drug. I have been extraordinarily lucky in that regard. I know my day will come, but so far my anal tendencies and my check-recheck-check once more mentality have saved me. It is, without question, my worst work fear. The only thing that could have made it worse was if it had been a kid. It wasn't.



It felt like it took forever with my trembling fingers to look up the med to check the generic and brand names, but I finally found it. I had hung the right med after all. Unfortunately my blood pressure was so high I needed to be put on one of my own monitors. I think my brain was playing a little practical joke on me and I didn't appreciate it one bit.


I dropped the book, tripped over the med cart and ran into the door jamb on my way out of the bay, but I didn't care.


It's all about perspective.