The response I get from readers about my work stories always interests me. I shouldn't be surprised really, because I know that the medical field holds a real fascination for a lot of people, myself included. Before I went to nursing school I read every medical book I could get my hands on, and even now I'm intrigued by a lot of the medical blogs. Maybe it's the commonality of the hospital experience, maybe it's the science geek aspect, perhaps it's simply the bizarre details of some of the stories all medical folk have to tell. I understand the fascination that has kept E.R on the air for half a decade and propels huge numbers of the new hospital pilots every year. I'm fascinated, too. It's why I do what I do.


So why don't I write about work more often?


It's a simple question. And there's a simple answer.


HIPAA.



Warning - Boring definition ahead: The Health Insurance Portability and Accountability Act. Enacted by Congress in 1996 as a broad spectrum health insurance reform that was supposed to revolutionize the industry. Under the wide umbrella policy was the Privacy Rule, which went into effect in 2003. This Privacy Rule is designed to safeguard the Protected Health Information (PHI) of patients being treated in a wide variety of settings. PHI includes anything that can be used to identify a patient or that person's health status. Some examples of this are medical records, payment history and provisions of health care. It's why in the U.S. you have to sign a privacy policy when you do anything medical, from getting your teeth cleaned to refilling your Viagra at the supermarket. It's your acknowledgment that you understand the policy (even if you really don't).


So, legal mumbo jumbo aside, what does this mean for healthcare workers? Simple again. (This one really is). We can't say a word about anything or anyone in any way that might identify that person to anybody. Period. We can't even verify if someone is a patient in our facility unless they give us permission to. In an emergent setting this can be really tricky.


If you do and you get caught? The fine is up to $25,000 for each infraction. And repeat offenders can be sent to prison. So let's say that you work in a doctor's office and your kid's teacher comes in with a sinus infection. You mention to another parent that the teacher isn't feeling too well and that parent tells the teacher they hope they feel better soon. Wham. That's a $25,000 violation. Told another person? $50,000. And so on and so on...


But wait. There's more. Workers are limited to what is called a Need to Know basis. This means we are only supposed to access the information we need to do our own particular job. So if Sue in Registration wants to check on a dietary order for a patient she admitted, she's in violation. If an intoxicated patient falls off the x-ray table and the radiology crew takes bets on his blood alcohol level and they actually go looking for it, they're in violation. Here's the one that kills me. If I admit a patient to the hospital through the ER and want to check and see how they're doing in the ICU, I could be in violation. Depends on what exactly I'm looking up and why. Leave a chart open with the patients name visible? Wham. Don't close out your computer screen and leave a mental health consult up for a passerby to see? Wham. You're in violation, baby.


Don't think it isn't being enforced either. When George Clooney was in a motorcycle accident in New Jersey in October, 27 health care workers were suspended for a month without pay for illegally accessing his medical records. Did they need to know? No? Wham. You don't have to be a celebrity, either. It happens all over the place. Now, did these people need this info? Of course they didn't. They were just being buttinskis. Some aspects of HIPAA make sense. But others...


This is an extremely loaded subject for anyone working in any capacity in the medical field, and if you get more than two of them together the conversation can get pretty intense. The basic premise isn't bad, but there are some serious problems with certain parts of it. One problem is that it's a confusing policy. Another is that some of the dictates are just plain stupid.


For example: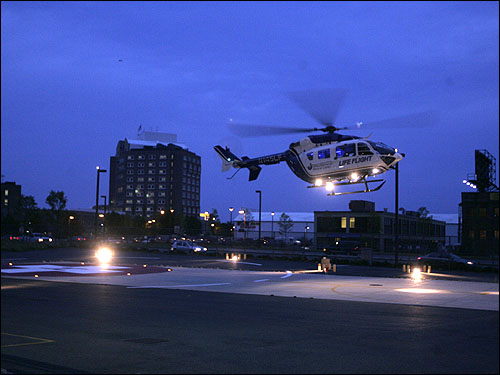 When I was working in a trauma ICU we had a young man Life Flighted in from a devastating car accident. (Flown in patients always get there before their relatives, even if their relative was with them when they had their accident). His mother was notified and then she called back (from Oklahoma - hours away) to frantically tell us that she was on the road and to find out how he was doing. I couldn't give her any information unless she had his code number to prove that she was legally allowed to receive reports on him. She didn't have the number, because you have to get it from the hospital to start with. If another family member had been there they could have given it to her, but no one else was there. She could have given me an "identifier" like his birth date and that would have satisfied the requirements. But his mother couldn't remember his birthday. (Don't sneer. It happens far more often than you'd think. Shock will do that to you). She was crying and screaming and praying - all at once. (And driving, let's not forget. Most likely speeding. On the interstate).


So here she is unable to get any information on her son. How badly is he hurt? Sorry, can't tell you. Is he alive? Sorry, can't tell you. Is he even at your hospital? Sorry, can't tell you. HIPAA, you know. Gotta protect that patient information. So I got her off the phone as quick as possible and patted myself on the back that no one was going to catch me giving out privileged information, right?


Sorry, can't tell you.


Here's another one:


This gangbanger gets his fool self all shot up and is on our unit. Twenty four years old, eight kids by six women. Now some of the women got along and some...didn't. The current lady (and the patient's mother) handpicked who could and could not get in to see this guy. We lost count of how many times security had to be called to our lockdown unit because of all the "babydaddy" fistfights going on right outside the door. Now this part of it could have happened quite easily before HIPAA. The problem was that his nurse had to walk past this bunch every time they left the unit and all these gals wanted to know how the man was doing. Sorry, can't tell you. I was taking an intubated, sedated patient with a massive head injury to CT and had one of these chicks try to jump on me over my patient because I wouldn't tell her anything. Security!


I could go on for days. I've got a million of 'em. But I'm going to go back to the original question.


So why don't I write about work more often?


And the straightforward answer is...because I'm afraid to.


I love my job. Let me repeat - Love. My. Job. All bitching aside, I could not ask to be in a better place. This is the sort of team environment people would kill to be part of. My co-workers are phenomenal, management is (so far anyway - knock wood) extremely supportive, our doctors are doctors I would want taking care of my own children in an emergency. That's about as high as my praise scale goes. But it's not a huge hospital and it really isn't a huge town. No one at work has a clue that I blog, and as much as I suspect that I'm not alone, it's not a subject that is ever discussed. This is why I never comment on medical blogs or try to link up with them in any way. It's a small world out there and I think a lot of them are under a lot of fire right now because of HIPAA. They all post disclaimers that supposedly cover them legally, but who knows?


I'm very careful with my work blogging. My stories are always true, but I do admit to changing things around just to cover my bases. If it isn't relevant to a story I'll sometimes switch the sex or age of a patient. I'll change any really distinctive physical characteristics. Unless it's something that has really bothered me, I'll change up the dates too. I may post on Sunday about something that happened on Wednesday and imply that it happened on Saturday. Do I really think in the great big blogosphere that someone will catch on to me? No. I never ever use anything that could identify a patient. Ever. My OCD is in high gear here.





But...I still don't think my hospital would take such a gracious view of it. We're a community hospital. The community wouldn't want to think some nurse was blogging about their ER visit.
This is also why I never post pictures of myself. (That and the guilt from all those computer screens worldwide cracking like eggs). It's really an interesting dilemma. If I ever did all of a sudden get a bunch of readers I'd be in trouble, because anyone who worked with me would be able to figure it all out. All the pieces are there now. And if I totally went insane and started listening to all you wackos lovely people who keep saying I should write a book, I'd really be screwed. I'd either need a really good lawyer or to only write about nursing in generic ways. I understand that the job is one of the more interesting things about me, so I do try to get in as much as I can. Believe me, I love writing them, too. I have several in the working stages now. I just have to cover all my bases every time I post one. I'm too old for prison and I don't have $25,000.


Man, can I ramble or what? What was the question again?


Sorry, can't tell you.

************************************************************************************
UPDATE: laurie just sent a really wonderful New York Times article about this situation. Here is the link to it if anyone would like to check it out. Thanks, laurie!