The following takes place between 6 PM. and 7:30 PM.

Fade in:

6:00 PM A moderately frazzled woman is standing in front of the stove willing water to boil. She lifts up the lid hopefully and peeks in. Clearly unhappy, she slams the lid back down on the pot.

6:01 PM Trixie the dog whines to go outside.

Enter a small blonde child of the culinary persuasion. He looks around and asks

What are you doing?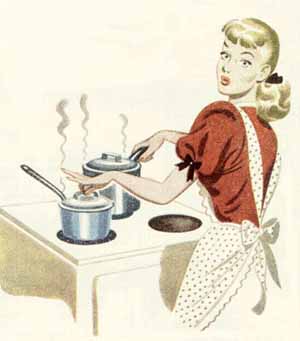 Woman at stove says

I'm trying to get dinner going before I have to take Gumby to his French class.

Small blonde child known as Surfer Dude says

Why do you look like you're in such a bad mood?

Stove woman says

Because I ended up spending the entire afternoon doing something totally unexpected and unpleasant and I've been behind ever since. I'm just a little stressed out and need more time than I've got.

She starts chopping a zucchini as she talks.

Surfer Dude says

Can I do that?

Stove woman says

If you can be fast because I have to leave in just a minute.

She watches him chop. She says

Could you maybe go a little faster?

He does. She says

Not that fast. This isn't Top Chef. You're going to cut yourself.

6:04 PM Trixie barks to come in.

6:05 PM SW goes to the kitchen door and yells for Gumby. He comes downstairs and they leave for French class. SD is warned to not touch the knife until SW returns.

6:18 PM Gumby is dropped off and SW returns to the kitchen, glancing at the clock. The water is finally boiling. She starts to throw together her desperation spaghetti sauce.

6:21 PM Trixie whines to go out.

6:22 PM Surfer Dude enters and says

Can we carve our pumpkins now?

SW says

Do you really think that now is the best time for that? It's a little crazy around here at the moment.

SD says

Well, when ARE we going to carve them? Should we just wait until Thanksgiving to do it?

SW says

(never mind what SW says)

then she rethinks and says

Dad always does the pumpkins with you. He's way more creative than I am and you know it. You guys can do the pumpkins Tuesday after school.

SD says

Can I at least draw the faces on them now?

SW says

Sure. Go ahead.

6:27 Surfer Dude collects up markers and heads to living room with pumpkins. Trixie barks to come in.

6:28 PM Sauce simmering.

6:29 PM Trixie whines to go out.

6:30 PM Garlic bread ready to go in oven.

6:31 PM Enter shaggy, ill-tempered teenager known as Sasquatch. He says

Will you go out to the studio with me? I need a copy of The Stand to read for school tomorrow and the only copy I have is a paperback and it's falling apart. I think there's a hardback copy out there somewhere.

SW says

There are shelves and shelves of books out there and I'm right in the middle of making dinner. Isn't this the book you have to have read by tomorrow? Like totally read? All 800 pages of it?

Sasquatch says

It's okay. I have plenty of time.

SW says

How many pages have you read?

Sasquatch says

120

SW says

(never mind what SW says)

6:32 PM Trixie barks to come in.

6:33 PM They go out to the studio and look for the book. No luck.

Sasquatch says

Well, I'll have to get a new book. I only read hardcovers. I can't read a falling apart paperback.

SW says

Sure you can.

They spar briefly and Sasquatch exits the room.

6:47 PM Trixie whines to go out.

6:50 PM Dinner is done.

6:51 PM SW lets Trixie back in and tells the kids they can get their food when they're ready.

6:52 PM SW leaves to pick Gumby up from class.

6:56 PM SW arrives to pick up Gumby and finds him shooting pool in the rec area of the community building. He wants to show her how well he's doing and says
Watch me. I can get all of these balls in the pockets.

7:02 PM After missing nineteen shots in a row he finally gets the last ball in and they leave.

7:03 PM On the drive home SW says

So you really have no homework tonight?

And Gumby says

Well, we have a little assignment, but it isn't really homework.

SW says

What is it?

Gumby says

We need a picture of ourselves as a baby and now. And I need a picture of you or dad as a baby.

SW says

Wow. That's going to be really tricky. I don't think I have any pictures of dad or I as a baby and all of our other pictures are still unpacked somewhere out in the studio. When do you need them by?

And Gumby says

Tomorrow morning.

SW says

(never mind what SW says)

7:10 PM They walk in the door to find the Film Geek home popping a beer. He looks at SW and says

You wouldn't believe the day I've had.

and SW says

(never mind what SW says)

7:11 PM Trixie whines to go out.

7:14 PM Dinner is served.

7:15 PM Trixie barks to come in.

7:25 PM Phone rings. It is the room parent from Surfer Dude's class calling (for the second time) to confirm treats for the party on Wednesday. SW states she will be bringing goodies as planned.

7:27 PM SW says

I still haven't heard a word out of the room parent from Gumby's class about the party. Loser! I wonder who the room parent even is.

And as her eyes grow wide in dawning horror, we fade out.

************************************************************************************* *************************************************************************************
Morning update :

Sasquatch decided to do his report on a totally different book.

Surfer Dude left Sharpies strewn all over the one year old sofa.

Gumby's photos (which we dug up) are lying forgotten on the dining room table.

Film Geek is sharpening his pumpkin carving knife.

and Stove Woman?

The party is planned and parents have been recruited. Gross Out Boxes are being made as we speak.

It's another day. Bring it on.

Loser.