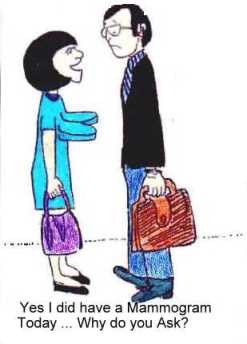 Ah, yes. The long awaited day is finally here. It's Mammogram time. And I'm so excited that I can barely see straight.

Riiiight...

I don't really mind the flat iron action. I don't even really find it to be particularly painful. Uncomfortable, yes. But it's fast and without fail the people performing them are soothing and respectful and no one has laughed at my boobs yet. Not that I've caught, anyway. There are surely mammogram nazis out there, but I've been lucky enough to avoid them so far. Hopefully, my streak will extend through this one.

What I mind is the fear factor. Surely I've said this a (thousand) times before, but I have an obnoxiously loud hypochondriac living in my head and sharing space with a worrywart. It's an ugly combination. Add in my healthy dread of "routine tests" and it's an all-around fun fest.

My mother in law was diagnosed with breast cancer last year. My sister in law and another good friend both had scares. The fact that I work in medicine doesn't spare me the fear - in some ways I think it allows me to psych myself out more. "Why is she looking at me that way? Oh my god, there's something bad there." vs. "Why isn't she even looking at me? Oh my god, there's something bad there." I can even work up a good argument for "Why is she smiling at me so nicely? Oh my god, she feels sorry for me because there's something bad there."

You see my dilemma?

But I'm going anyway. I will be mammogrammed. Even though I'm perfectly content to live in the state of Denial, I know it's a bad state to be from. I will suck it up and wait it out for my results and I will not whine or gnash my teeth.

Hey, I know what I'll do to take my mind off of it. I'll catch up on all my blogs that I have been sadly neglecting for the last three days. Between work and kids on the computer, I've been a slacker. But not a deliberate slacker. More like an enforced one. So protect your comments boxes because here I come.

Consider yourselves warned. And password protect while you still can.