Today let's talk about...
"Sexy" Men I Just Don't Get
I know we all have different tastes in the opposite sex. Or the same sex - to each his or her own. And surely this is a good thing, because otherwise we'd all be duking it out over the same few people. This would inevitably lead to a lot of us being stuck with nothing but cheap paperback romance novels and bad country songs to keep us warm at night. But there are some famous "sexy" men I just don't, for the life of me, get. To be perfectly fair, there a quite a few "sexy" women I'm a little puzzled about too. I almost hate admitting a couple of these, because I think something may be just a little wrong with me. Or maybe even a lot. And I apologize for jumping on the whole celebrity bandwagon, but at least these are people we can all recognize. If I said I didn't find the guy at the Post Office sexy we wouldn't have much to debate, would we?
#1. Tom Cruise.
Pre-Open mouth insert foot stage. Pre-Katie Holmes. Pre-radical Scientologist. (Not sure when
that
was). I just do not understand what it is that makes so many people ga-ga over Tom Cruise. I was fresh out of college and working at Paramount during the
Top Gun day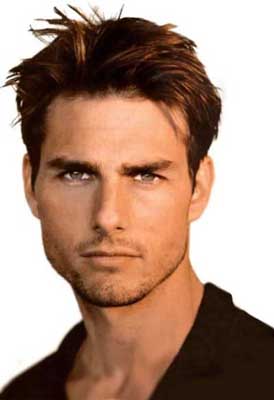 s when it seemed like he could do no wrong. The day that his production company was moving into their new offices on the lot every female (and quite a few males) felt it necessary to camp out for a glimpse of the man himself. And these were jaded Hollywood types. I passed on that circus, but did see him at other times on the lot. He's short.
Really, the fact that he does nothing for me is particularly odd because he sort of has the Black Irish coloring I've always found irresistable. Dark hair, pale skin, blue eyes. And even that doesn't work for him. (Are his eyes even blue? Maybe hazel, now that I check). But still.
#2. Justin Timberlake.
Not even sure where to start here. Just. Don't. Get. It. Maybe it's the age thing, because I know a lot of younger girls who think he's the It Man of the moment. But I don't think so. I can think of plenty of other guys his age who do a lot more for me. Mrs. Robinson just can't think of them right
now
.
I do like the way he, uh, dances. But I'm opposed to anyone who has ever seen Britney Spears naked on general principle.
Okay, I'm saving this one for last, because even I know there's something wrong with me.
#3. Brad Pitt.
Oh Jesus save me, for I have sinned. I do not find Brad Pitt sexy in the least. I think he's
cute
enough, I mean he doesn't gross me out or anything. I just don't have that weak-kneed thing going. This little glitch makes me feel seriously out of step with the rest of human kind.

I think part of my problem with Brad Pitt is that the "pretty boy" isn't a type I normally gravitate toward. And also that virtually any film he's in has at least one person who out-sexies him in my book. George Clooney. Vince Vaughn. Angelina Jolie.
I wonder if there's anything I can take for this?


All right people, lets have your lists. Someone please make me not be the freak here.