Now that we've gone over the utter chaos that was our last moving experience, it's time to introduce the cause behind it all. The picture below was taken by the Film Geek the first time we saw our new house together, and it was, literally, the vision that fueled us when the tank was completely dry. Have you ever seen a house that needed love more? When I was too tired to move I would park in front of it just to remind myself of what the stakes were. Sometimes I didn't even care anymore, but by then it was plain too late to do anything about it. The entire experience reminds me of the saying "be careful what you wish for because you just may get it." Well, we wished all right, and we got it, too. It's just that some days we're still not sure if we knew what we were wishing for. This house is bigger than the both of us. Meet The Money Pit.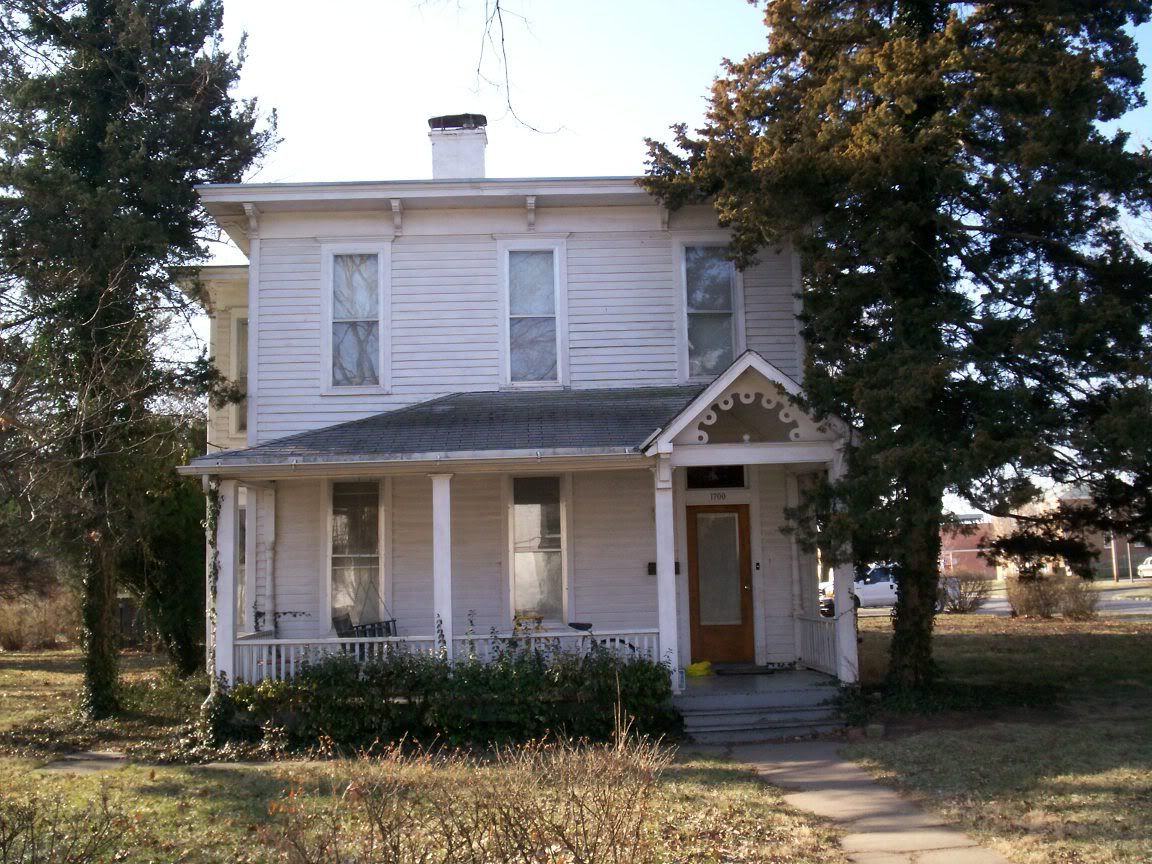 The house was built in 1887 and is a style called Folk Victorian, which I had never heard of before. It pretty much means it was built for the common folk who wanted a "real" Victorian but couldn't afford one. The house is on a double lot in one of two historic areas in town, and the entire neighborhood is treed to within an inch of its life. Towering is a good word for the trees, even from our (very tall) second floor the trees go on forever. It feels a little like you're in a tree house.

Okay, here are the bare bones details. The house itself isn't huge but it's very spacious feeling, because almost the entire place has ten foot ceilings. Downstairs is an entry way, living room, dining room, family room, kitchen, bathroom and laundry/mud room. The kitchen, bath and laundry were part of a big remodel in 2000 and they're quite large. Upstairs is a bath, a library and three bedrooms. One of the bedrooms was added the same time they did the remodel and it's really more of a sunroom that is used as a bedroom. It's also enormous. The house has an attic and a basement, which I've already described (unfortunately). We have a great front porch with a swing, and the entire side yard is planted with orange and red day lilies. It's quite a respectable house, even simply on paper.

But it's the extra stuff that grabbed us by the throat. The floors are pine and oak throughout, and the living room has a fireplace. The windows are all tall and thin and the light just pours into the house. There is a stained glass transom window over the glass front door and two original pieces of stained glass that follow the curve of the stairs. The staircase is something else. It's literally the first thing you see when you walk in the door and it curves like a candy cane as it rises upstairs. Virtually every room has crown molding and the downstairs has carved doorway and window molding. There are nice built-ins in the family room. The kitchen has partially stainless steel countertops and more storage space than you can shake a stick at. Off the kitchen, through a sliding glass door, is a screened in porch that has a hard wood floor and is fully wired. There are lilacs planted all along the screen so you can smell them in the house. When you go out the back door from the laundry room you are on a brick patio that is surrounded by an arbor that has built in wooden benches along the perimeter. From there a brick walkway leads to the driveway. There's even a basketball goal for the kids.




The clincher to the deal was the separate studio at the back of the lot. It's attached to a double garage and it's enormous. One of the families that lived here before turned it into a textile studio, so there are hoists and everything. It's plumbed, fully wired, air conditioned and has a great big high ceiling with wonderful windows. There's even a pretty good sized storage loft. My husband would sell me to the gypsies for this studio. This was the single most important factor that brought him on board for this godforsaken process. Sometimes he goes out there just to pat it and tell it how much he loves it. This is where he does his model building, and this is where his enormous stash of modelling supplies lives. In our old house they had their own bedroom. Now they have their own house. And they're out of mine. :)
Now for the down side. The house does have some issues, which I guess is to be expected in a hundred and twenty year old building. It has old house floors, as in if you drop something it will roll all the way across the room. Some college kids rented it for a few years and it shows. There are only three closets in the entire place. (I guess those Victorians didn't have many clothes). The walls are all plaster, and a lot of the downstairs is the horsehair plaster, which can be a biatch to repair. A few of the walls needed help badly. To give you an idea how badly, the sellers took ten percent off their asking price because they didn't want to patch the plaster or paint. I don't work at my job to feed my kids, I work to buy plaster patch. (True story - when I went to the local hardware store just a block away I introduced myself and said I was new to the neighborhood and that they'd be seeing a lot of us. They asked which house and when I told them they said "You'll be wanting the big bucket of plaster patch".)
It was unfenced, so the first thing we had to do was put in a fence. Because of the layout if you were driving down the street pre-fence you could see straight through the screened porch into the kitchen, which I wasn't crazy about. It's on a corner, which doesn't thrill me either. There are only three bedrooms, which took some thinking outside of the box. The sunroom bedroom is big enough that we put a temporary divider in the middle to create two bedrooms. Eventually we'll do a permanent wall. I hate the basement. And the street is way more urban than I'm used to. We're sort of on the outside perimeter of the neighborhood. There's an assisted living facility right across the street and we live only a block off of one of the main drags in town. It's not a huge street, but I can see the stoplight from my west windows. It's kind of odd. From my east windows all you can see is trees and big old houses, but the view from other side is more city. We are only half a block from a supermarket, so there's a fair amount of foot traffic. Our city is crazy about roundabouts and there's one right in front of us. Every now and then some drunken frat boy will forget it's there and drive right over it, making quite a racket as their entire undercarriage gets ripped off. I thought the more urban aspect of it could be problematic, but I absolutely love it. I can walk to get anything I need, and there are days I never even get in my car. Both the Film Geek and I can walk to work if we want. The convenience is wonderful.
It's a good place. I think we'll keep it. At least until I finish patching the walls.